Peach Pancakes with Whipped Mint Butter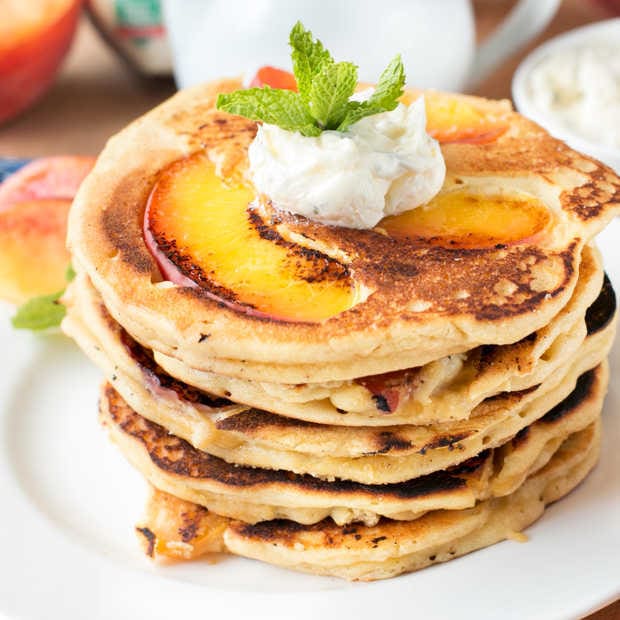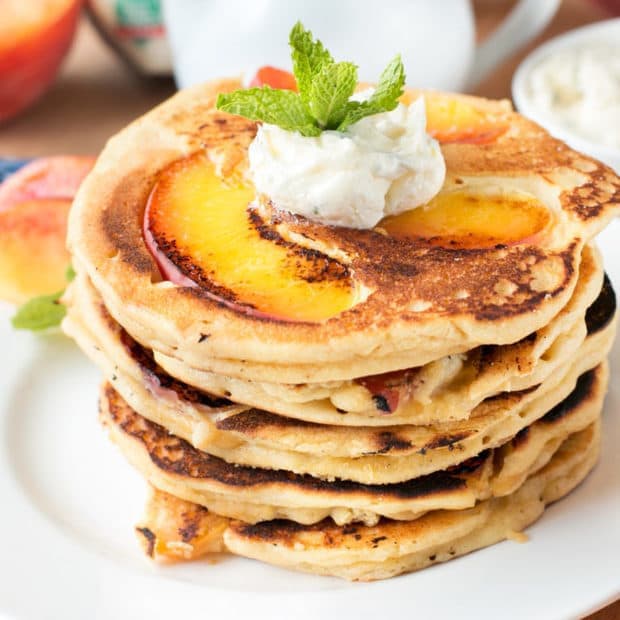 The caramelization of the peaches in these pancakes is off the charts amazing! Top it all of with whipped mint butter and bourbon maple syrup, or keep it paleo and vegan to serve up as is. Either way, these pancakes please everyone!
Peach Pancakes
1 cup Paleo Pancake Mix
1/4 cup water
1 Tbsp coconut oil, melted
3 medium peaches, cut into thin wedges
Whipped Mint Butter (optional 1/4 cup milk
1/2 lb butter, softened
1/2 cup mint leaves, chopped
Bourbon Maple Syrup (optional)
1 Tbsp butter
1 cup maple syrup
1/2 cup bourbon
Pinch of salt



INSTRUCTIONS

In a large bowl, whisk together pancake mix, eggs, water and coconut oil.
Heat a non-stick grill pan over medium heat.
Portion 1/4 cup of the pancake batter and add to the griddle in a circle. Place 3 slices of peach on top of each pancake.
Cook for approximately 3 to 4 minutes. Flip and cook until golden brown and the peaches are caramelized.
Repeat with the remaining batter and peaches.
Keep warm in the oven set to 175 degrees on an oven-proof platter.
Serve immediately if you are serving these up vegan and paleo!
If you are making this non-vegan and non-paleo, make the whipped mint butter. Beat together milk and butter until light and fluffy, approximately 2 to 3 minutes. Once fluffy, beat in the chopped mint until just combined.
In a small saucepan, melt butter for the bourbon maple syrup. Stir in syrup, bourbon and a pinch of salt.
Serve peach pancakes with bourbon maple syrup and whipped mint butter.